Recipes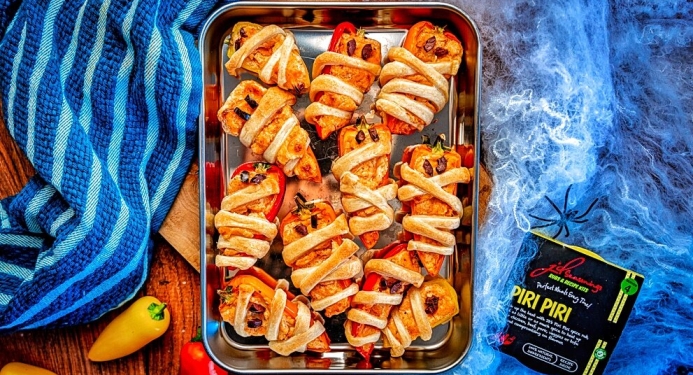 Halloween Piri Piri Pepper Mummies
Prep: 10 mins
Cooking: 30 mins
Total: 40 mins
Serves: 4
Per serving: 97 kcal
Spice up your Halloween party with our Piri Piri Pepper Mummies, made with our Piri Piri Rub.
Ingredients
1 x Pot of JD Seasonings Piri Piri Rub
220g Sweet peppers
2 x Olives, finely diced (for the eyes)
60g Grated mozzarella
60g Light soft cheese
60g Light puff pastry
85g Reduced fat mozzarella, sliced
Method
STEP 1:
Slice your peppers in half and deseed.
STEP 2:
Mix the reduced fat soft cheese, grated mozzarella and Piri Piri rub together.
STEP 3:
Spoon the cheese mixture into your peppers and add the sliced mozzarella on top.
STEP 4:
Cut your puff pastry into thin strips and wrap around the peppers.
STEP 5:
Bake at 180° for 10-12 minutes, until the cheese has melted and pastry is golden brown.
STEP 6:
Add the olive 'eyes' and serve.

ENJOY!!!