Recipes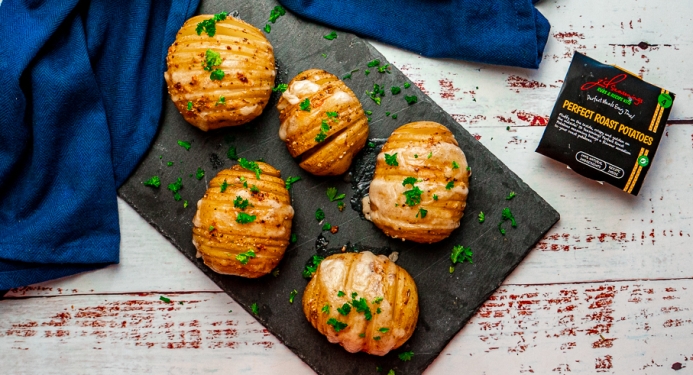 Cheesy Garlic Hasselback Potatoes
Prep: 10 mins
Cooking: 50 mins
Total: 60 mins
Serves: 4
Per serving: 316 kcal
These cheesy, garlic hasselback potatoes are going to be a new favourite side! They're really easy to make and can take your meals to the next level, made with our Roast Potatoes.
Ingredients
1 x Pot of JD Seasonings Roast Potatoes
800g Medium potatoes
4 x Garlic cloves, crushed
60g Parmesan, grated
80g Reduced fat mozzarella, thinly sliced
Low calorie cooking spray
Fresh parsley (optional
Method
STEP 1:
Remove a thin slice from the bottom of each of your potatoes, so they sit flat and don't roll.
STEP 2:
Make thin, horizontal slices across your potatoes, being careful not to slice all the way through.
STEP 3:
Mix the Roast Potatoes Kit and grated parmesan together.

STEP 4:
Spray your potatoes with low calorie cooking spray, place onto an oven-proof dish lined with baking paper and spoon over the parmesan mixture.
STEP 5:
Bake for 35-40 minutes at 180°, until the potatoes are crisping up and you can spread them slightly, leaving more of a gap between the incisions.
STEP 6:
Carefully insert the mozzarella slices into the gaps, placing them at random.
STEP 7:
Return to the oven for 10-15 minutes, until the cheese has melted and potatoes are cooked through.
STEP 8:
Sprinkle over the parsley and serve.

ENJOY!!!