Recipes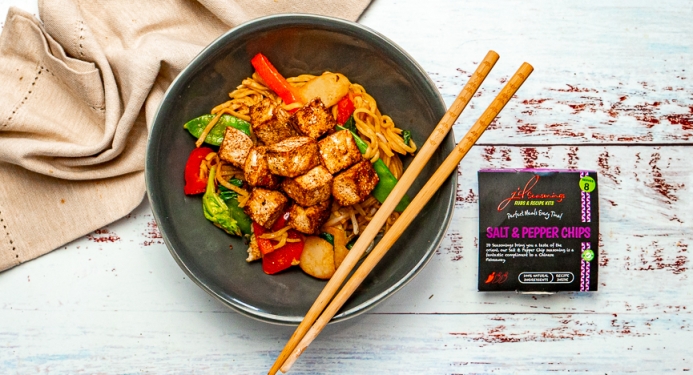 Salt & Pepper Tofu Stir Fry
Prep: 30 mins
Cooking: 30 mins
Total: 60 mins
Serves: 4
Per serving: 381 kcal
Tofu doesn't have to be boring – using our Salt and Pepper Rub, this baked tofu is absolutely delicious and works so well with a veggie-filled stir fry!
Ingredients
½ x Pot of JD Seasonings Salt and Pepper Chips
1 x Block of Firm Tofu
250g Mixed stir fry vegetables
4 x Medium egg noodle nests
3 x Tbsp dark soy sauce
1 x Tbsp light soy sauce
Low calorie cooking spray
Method
STEP 1:
Gently press your tofu to release the water – you can use a tofu press or books and kitchen roll. Leave for half an hour.
STEP 2:
Cut your tofu into cubes before mixing 1 x tbsp of dark soy sauce with the salt and pepper rub and coating the tofu.
STEP 3:
Add the tofu to an oven-proof tray lined with baking paper. Spray with low calorie cooking spray and bake for 30 minutes at 180°, turning regularly, until the edges are brown and crisp.
STEP 4:
Meanwhile, fry the stir fry veg in low calorie cooking spray according to the packaging instructions and boil your noodles.
STEP 5:
Once cooked, combine the veg and noodles and remaining dark and soy sauce and toss until completely coated.
STEP 6:
Add your tofu on top and serve.

ENJOY!!!