Recipes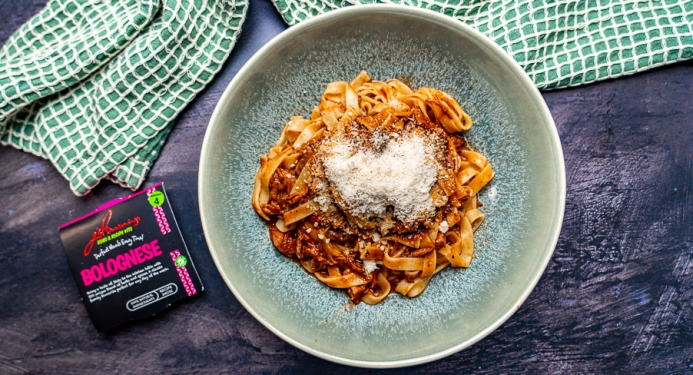 Slow Cooked Beef Ragu Tagliatelle
Prep: 5 mins
Cooking: 510 mins
Total: 515 mins
Serves: 4
Per serving: 604 kcal
Such an easy, slow-cooker meal that the whole family is bound to enjoy.
Made with our Bolognese Kit and slow cooked, this dish sums up comfort food.
Ingredients
1 x Pot of JD Seasonings Bolognese
1 x Beef roasting joint, sliced into 2cm thick strips (approx. 600g)
1 x Onion, diced
3 x Garlic cloves, crushed
500g Passata
200ml Beef stock
300g Tagliatelle
60g Parmesan, grated
Low calorie cooking spray
Method
STEP 1:
In low calorie cooking spray, brown the slices of beef. Do this in batches if needed,
then place into the slow cooker.
STEP 2:
In the same pan, add some more cooking spray and fry the onion and garlic for 5
minutes.
STEP 3:
Tip into the slow cooker then pour over the passata and stock.
STEP 4:
Add the Bolognese Kit and mix well. Cook on low for 8 hours.
STEP 5:
Cook your tagliatelle according to the packet instructions.
STEP 6:
After 8 hours, shred the beef with two forks and mix thoroughly with the tomato
sauce.
STEP 7:
Add to the tagliatelle and stir until everything is coated.
STEP 8:
Serve with some parmesan sprinkled on top.
ENJOY!!