Recipes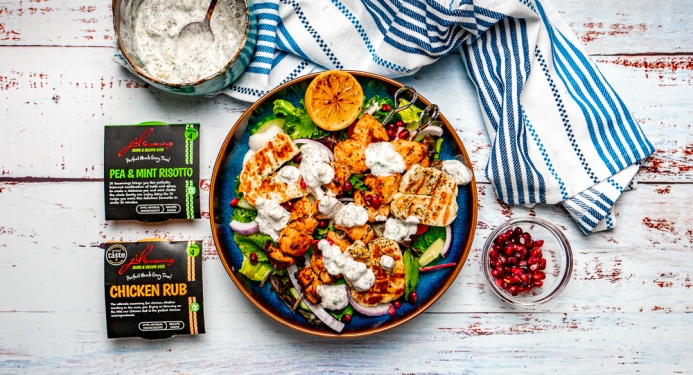 Greek Mezze Bowl
Prep: 10 mins
Cooking: 20 mins
Total: 30 mins
Serves: 4
Per serving: 340 kcal
This mezze bowl is giving us all the summer vibes! Filled with chicken souvlaki, made with our award-winning Chicken Rub, and minted halloumi, made with our Pea & Mint Risotto Kit. It's definitely one to try!
Ingredients
1/2 x Pot of JD Seasonings Chicken Rub
1/2 x Pot of JD Seasonings Pea & Mint Risotto
4 x Chicken breasts, diced
200g Reduced fat halloumi, sliced
1 x Red onion, thinly sliced
100g Cucumber, sliced
20g Cucumber, finely diced
80g Cherry tomatoes
120g Mixed leaves
160g Fat free greek yoghurt
1/2 x Lemon (juice)
40g Pomegranate seeds
Method
STEP 1:
Mix 60g of the greek yoghurt with the lemon juice, our chicken rub and diced chicken until all the chicken is coated. Marinate for 4 hours.
STEP 2:
Load the chicken onto skewers and grill, turning regularly, for 15-20 minutes, until cooked through.
STEP 3:
Meanwhile, fill your bowls with the salad.
STEP 4:
Coat the halloumi in 1/2 of the pea and mint risotto kit (approximately 1/4 of the tub in total) and fry on both sides.
STEP 5:
Mix the remaining yoghurt, finely diced cucumber and pea & mint risotto kit with another dash of lemon juice to make the tzatiki.
STEP 6:
Top your salad with the chicken skewers, cooked halloumi, pomegranate and tzatiki.
ENJOY!!