Shop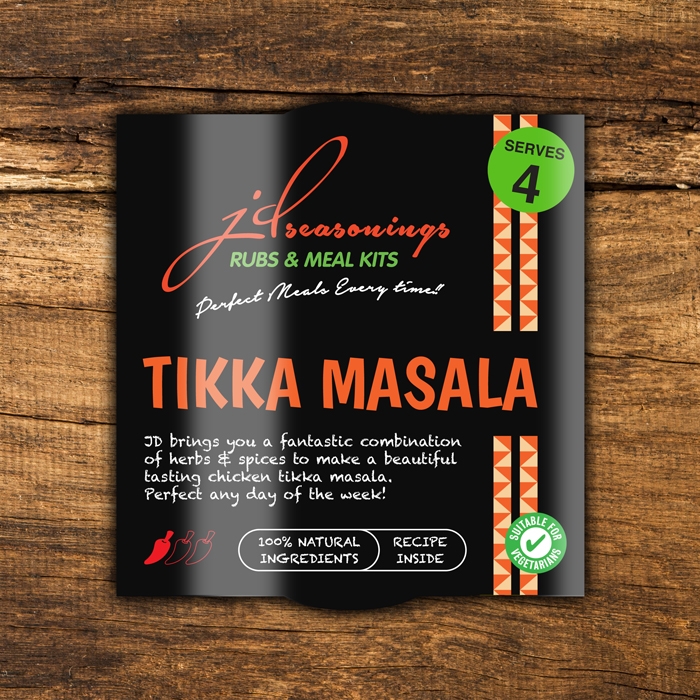 Suitable for
vegetarians
Chilli rating:
1
Prep time: 60 mins
Cook time: 40 mins
JD brings you a fantastic combination of hand blended herbs & spices to make a beautiful tasting Tikka Masala, that you will love! Tikka Masala is a medium hot curry, brilliant for any day of the week!
JD's easy to follow recipe will help you make a flavourful and creamy chicken Tikka Masala in your own kitchen. The method is simple and easy to follow. The trick is to marinate the chicken at least an hour before cooking (or even better the night before cooking), to create that classic chicken tikka taste.

Ideal served simply with boiled rice and naan bread.
Tikka Masala is one of Britain's favourite takeaway meals, inspired by Indian cooking but adapted to suit the British palates, it is now a curry classic. Try making your own chicken Tikka Masala and see how it compares to a takeaway! Let us know how you get on?
Ingredients
Paprika, Garlic Granules, Cumin, Coriander, Garam Masala, Ginger, Chilli Powder and Mint.
Garam Masala Contains Coriander, Cumin, Ginger, Cassia, Black Pepper and Cloves.
For allergen information please click here
Description
Each pack includes a shopping list and healthy recipe.
All our products are:
100% Natural Ingredients
We add:
0% Fat
0% Oil
0% Sugar
0% Preservatives
0% Additives
Produce of various countries, blended and packaged in the UK. Product not to be eaten raw.
Weight: 13g
Pack Dimensions: 60 x 60 x 30 mm
Reviews
Omg this was absolutely amazing and so easy to make, it tastes like It came from an actual Indian take away
Take a look at more of our fantastic reviews.